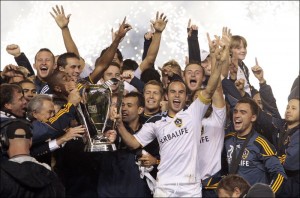 Okay, you want to win my Galaxy tickets for 8/26/2012., LA Galaxy v. FC Dallas. Why would I give away something so awesome? It is my wife's birthday and I intend to spend the day with her. So I thought it would be fun to do something that would put the tickets into the hands of a Galaxy fan.
The tickets are in Section 141 Row G seats 22 and 23. This is right next to the tunnel. From this vantage point I am able to interact with Galaxy players and coaches, as well as heckle the other team letting them know that they "came a long, way just to lose."
I also thought this would be a good time to do some marketing, but I don't have anything to market other than myself. But I do have a few friends that do a podcast called "Corner of the Galaxy." It is also available on iTunes. I have decided to market myself and the Corner of the Galaxy podcast. I mean, you are at my blog after all aren't you.
So here are the instructions for winning my two LA Galaxy tickets:
You must follow me (@parker_mark) on twitter.
You must follow Corner of the Galaxy (@GalaxyPodcast) on twitter.
You must send a single tweet with the following information to me:
to @parker_mark
Name of the Artist that sings the opening music in the Corner of the Galaxy podcast. (hint, if you don't know use Shazam)
The name of both hosts of Corner of the Galaxy (hint, they are given during the podcast)
The hash tag #JoshIsSoWhite because it cracks me up when that is mentioned on the Podcast
So as an example your tweet would look like the following replacing the ambiguity with the correct information:
@parker_mark Name of Band, host1, host2, #JoshIsSoWhite
You can enter once per day by sending a tweet. I am going to randomly pick one of the tweets by shooting a nerf dart at my screen from 20 feet (that way I can't see the names) while my son scrolls the list of tweets. The one it hits wins the tickets. Any questions can be sent to @parker_mark via twitter.
It is literally that easy. But you have to do all of it, if you miss one step you are disqualified and I will pick again. Spelling counts. If you have never listened to Corner of the Galaxy before, you are going to have to listen to at least one episode to answer the questions. You can thank me later. So come on Galaxy fans. Win my tickets, and let's get #JoshIsSoWhite trending on twitter for the month of July.
I will be running the contest throughout the month of July. I will randomly draw (see method above) a winner in early August and will let you know via twitter the exact date (I am planning a vacation for the first week of August so I can't commit to an exact draw date yet.)
I am doing this as something fun for Galaxy fans and to promote a friends podcast. So there isn't any legalese, but I will try my best to keep this fair.
Oh and #JoshIsSoWhite