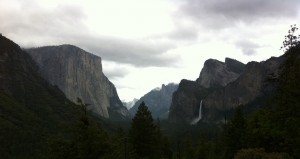 Yosemite National Park is, to put it simply, awesome. It is an area so beautiful that it essentially inspired our National Park system. I went went with my family to Yosemite National Park for a bit of site seeing and backpacking for Memorial Day Weekend 2011. My kids saw things that blew their minds. They have seen waterfalls before on other trips, but there are few waterfalls that can be quite as awe inspiring as the falls in Yosemite during the Spring season. There are few places where in their daily lives where they come around a corner and come face to face with a mule dear, grazing from a tree.
My desire to hit up Yosemite started months ago. I have discovered that visiting locations like this are like a recharge, or a hitting of the reset button for me. The day to day stresses of life just simply melt away in a place like Yosemite. I could sit here and wax philosophically about it, but a far better man than I has put it into better words than I could ever hope to do. I will let John Muir do the waxing for me.
"Thousands of tired, nerve-shaken, over-civilized people are beginning to find out that going to the mountains is going home; that wildness is a necessity; and that mountain parks and reservations are useful not only as fountains of timber and irrigating rivers, but as fountains of life." — from Our National Parks (1901)
"We are now in the mountains and they are in us, kindling enthusiasm, making every nerve quiver, filling every pore and cell of us. Our flesh-and-bone tabernacle seems transparent as glass to the beauty about us, as if truly an inseparable part of it, thrilling with the air and trees, streams and rocks, in the waves of the sun,—a part of all nature, neither old nor young, sick nor well, but immortal." — from My First Summer in the Sierra (1911)
The restorative capability of nature is something that I have been the recipient of on several occasions, and find myself needing it far more often as time goes on. So when after a week of delayed and cancelled flights, I found myself on a plane from Sacramento, CA to Ontario, CA looking out the window towards the East. I was able to see, at a distance but still clearly the three icons of Yosemite seen above. El Capitan, Half-Dome, and Bridal Veil Falls. The need was brought to life, and it needed to be quenched. So the family and I made plans to do a quick weekend turn around trip to Yosemite. My wife and kids had never been, and I had not been in several years. It certainly didn't hurt that the falls were flowing more than they have in quite some time.
After seeking a little solitude by getting away from the considerable crowds in Yosemite Valley by hitting a few of the trails we decided to hit a few of the more frequently visited locations in Yosemite Valley on Sunday. Our first stop was Bridal Veil falls. Now this is an easy few minute paved walk up to an excellent vantage point. In this short distance you will experience a weather change caused by the increased moisture from the falls, and ultimately if you continue to the top you be soaked by the spray from the falls. Both of my kids picked this moment as one of their highlights of the trip. After making our ascent, I saw something that just shook me to my core.
What did I see? I saw the muppet you see on the left. You have to understand, here I was immediately after the high of standing at the base of Bridal Veil Falls, discussing the experience with my 10 year old son. During which I watch this man take a lit cigarette butt and toss it off of a walking bridge into the waters of Bridal Veil Creek.
Okay sure, you may be thinking that doesn't sound so bad. First off, I know that people throw the cigarette butts pretty much wherever they want, that doesn't make it okay. But the fact that this worthless waste of space would just toss that butt as if he had no regard for the sheer beauty that surrounded him is not just shocking, it is criminal. Litterally. Littering is illegal. Having smoked before myself, I know of the challenges there can sometimes be in finding an ash tray. So what, that doesn't excuse this muppet.
So did I say anything to him? I really really wanted to. The words were on the tip of my toungue. Every fiber of my being wanted to say loudly enough to create a scene "Sir I think it is disgusting that you are so selfish and stupid that you think it is okay to just toss your cigarette butt down into the water, much less anywhere." But I had both my sons standing right next to me, and my wife's voice which always admonishes me for creating confrontation in situations like this.
So instead I snapped a picture of him, and decided on the spot that I would do what I am doing right now. I would call him on it, and call for his public humiliation. So I am here-by saying it. To whoever it is in the photo, "you sir are a foul individual, I sincerely hope that you never are able to smoke without someone sticking around to ensure that your butt ends up in a proper receptacle for as long as you live. I hope that one decision changes your life forever."
So here is my  little Internet campaign. On top of this blog post I am also publishing the following two photos. Please take these photos, and publish them on twitter, publish them far and wide. Encourage others to retweet the image. Put these images on your facebook page and encourage others to share the image with their friends.
The National Parks were created for the enjoyment of the world, so this guy owes the planet an apology.  So my call for public scorn stays active until I hear that this guy has gone to Yosemite and donated 2 full days of his time picking up trash. Surely there will be photographic or video evidence of this. At that time I will edit this posting to say that the campaign is ended. I will also write a blog post about his redemption. Until then, he remains deserving of public scorn. So publish these photos far and wide.